Quit Smoking?
or
Stop Smoking?
It is your choice

And I have One amazingly
good advice that you will
find when you read further

Now the thing is and I really get tired of people and they go

-- I really want to quit smoking but I can't and I have tried everything

and I go

-- what have you tried and they go

--well, I went to hyp-no smoke and they made me do this, this, and that, you know and it worked for a while and aaah and then you know I started again and I always say to them

--well, that was stupid after you paid your money why don't you just stop it

but if you don't want to STOP IT and the thing is they said

that they remember that they liked it and as soon as they starting feeling good again their lungs didn't bother them they went out and bought a packet of cigarettes.

Amnesia is good for somethings. And also you feeling better than when you were smoking and having a better sex life.

You want that, don't you, as a non smoker. The choice is sometimes easy when you connect things, don't you think so?

quit smoking, now!

Just relax, listen, and stop smoking, pleasurably!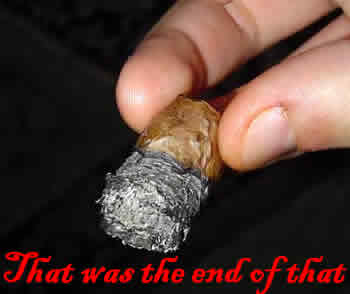 So here is the amazing advice:

You need, as with all addictions (like for example drugs like cocaine), to be in the withdrawal phase. When you are in that state you are in the problem state. Like if you just have smoked you feel good and then you don't have the addiction problem.

But when you are in the withdrawal phase then you have the problem and that is the time when I can fix it good.

So stop smoking now and start listening, repeatedly,

You will not have the problem at just that moment but when withdrawal, the physical dependence, sets in, that is good.

Because that state is what we want so that we can fix it.

You know, when you don't have the problem it doesn't bother you and you don't put so much effort in it. It is like breathing air, it doesn't matter so much as long as you have air to breathe.

Use this method that you now can listen to. It consists of two parts. One part stops your smoking and the other part is a shorter reinforcer that you can use when the world has tried hypnotizing you again into being a smoker. Cause the world will try, be sure of that.

People are different and some might stop smoking after just one session whilst others need relistening some times. Human beings are unique and it would be silly of me to say that it will work for all people after listening just once. However it is rather effective so you could be amongst the ones that only need one listening session.

ps. In my inductions I have of course done them so that you don't replace the "smoking habit" by any other "bad habit", like for example gaining weight.

So they are Stop smoking today without gaining weight.

YESS.. I will succeed in quiting smoking!!!!
Still, if you feel the need for a frightener --- I have been working in a plastic surgery clinic since 2001 and our plastic surgeon says that she can tell, if a person is a smoker, or have been a smoker, or have never smoked at all, by their inside..
Now, isn't that spooky, it is for me!